Uncategorized
Aug 27, 2019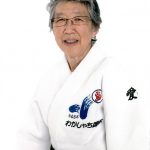 It is with great sadness and a sense of immense loss that the family of Florence Senda announces her passing on August 22, 2019 at the age of 93 years. She was born on April 14, 1926.
Florence is survived by her Children; Ron (Collette Oseen) Senda, Greg (Jane) Senda and Dawna (Giuliano) Coslovi, her Grandchildren; Deanna (John) Wolsey, Kathryn (Gray) Oseen-Senda, Mika Senda, Teio Senda and Dean Coslovi, and two Great Grandchildren; Shawny Senda and Theo Rybka-Senda. She is also survived by her siblings; Misae Masuda (sister) and Arthur (Pat) Hironaka (brother).
Florence was predeceased by her husband Yosh Senda and her daughter Mae.
Florence was a local girl born and raised in Raymond, Alberta. She married Yosh Senda in 1947 and together they raised their family in Lethbridge. Mom had strong roots in Southern Alberta and believed in actively giving back to the community by volunteering her time for various community organizations. She will be especially remembered for her many years at the Lethbridge Judo Club and was still practicing right up until her passing. She led a quietly independent life, spending the last 3 years living in the community at Garden View Lodge with her dog Roo.
People wishing to pay their respects can meet the Family on Thursday, August 29, 2019 from 7:00 – 8:00 p.m. at the Buddhist Temple of Southern Alberta, 470 – 40th Street South, Lethbridge.
Funeral Services will be held on Friday, August 30, 2019 at 10:00 a.m. at the Buddhist Temple of Southern Alberta with Ikuta Sensei officiating.
In lieu of flowers and koden, donations may be made to the "Dr. Yoshio & Florence Senda Scholarship Fund" at the University of Lethbridge, 4401 – University Drive W, Lethbridge, AB T1K 3M4.