Detailed Provincial Award Information
For a detailed look at present and previous provincial awards, download our Excel worksheet.
The Tom Greenway Memorial Scholarship

In 2005 the Tom Greenway Scholarship Committee was established. The
scholarship criteria was developed by Allan Greenway, Joe Meli, Dean
Maruyama and Garry Yamashita.
A $400 scholarship is awarded each April at the Florence Senda Cup to
Judo Alberta's top ranked male and female athletes based on the most 1st
place wins regardless of weight category. The age eligibility for this
scholarship are athletes who are 14 years old to 19-year-old and who are
members in good standing with Judo Alberta. All tournaments considered
for this scholarship are part of the Judo Alberta point system during
the period from July 1 through May 31 each year. Athletes are eligible
to win the award every third year giving the opportunity for this
scholarship to impact many different judoka. If there are athletes who
are tied with the number of competition 1st place/wins they will each
receive $300.00.
The purpose of the scholarship is to assist young judoka to attend out
of province tournaments in order to elevate their standard of Judo.
Donations can be sent to the Judo Alberta office, payable to the "Tom
Greenway Memorial Scholarship Fund
Past Winners
2005 Winners – Nicole Tsukishima, Lethbridge Judo Club & Serge Zamotine, Tolide Judo Kwai, Fort Saskatchewan
2006 Jade McLachlan, Tolide Judo Kwai, Fort Saskatchewan; Colbi Cattoni, Lethbridge Judo Club; Ben Noji, Lethbridge Judo Club
2007 Winners – Meryl-Lyn Semograd, Hiros Judo Club & Genghis Barranda, Kodokwai Judo Club, Edmonton
2008 Winners – Sarah Purschke – Tolide Judo Kwai & Dean Coslovi – Lethbridge Judo Club
2009 Winners – Nicole Tsukishima – Lethbridge Judo Club & Ian Campbell – Tokugawa Judo Club
2010 Winners – Chantelle Hill – Tolide Judo Kwai & Colton Hall – Tolide Judo Kwai
2011 Winners – Cassidy Norris – Tolide Judo Kwai & Darren Elcock – Airdrie Judo Club
2012 Winners – Jaquina Simao (Ishiyama Judo Club) & Dawson Mandel – (Lethbridge Judo Club)
2013 Winners – Hana Varsanyi (Lethbridge Judo Club) & Ian Ayasse (Hiro's Judo Club)
2014 Winners – Virginia Nemeth (Lethbridge Judo Club) & Chris Bailey (Lethbridge Judo Club)
2015 Winners – Brette Poliakiwski (Lethbridge Judo Club) & Tanner Sudo (Lethbridge Judo Club)
2016 Winners – Alex Gagnon (Tolide Judo Club) & Joel Demaere (Lethbridge Judo Club)/Adam Thomson (Hiro's Judo Club)
2017 Winners – Hana Kuno ( Lethbridge Judo Club) & David Wu (Tokugawa Judo Club)
2018 Winners – Ema Tesanovic (Ishi Yama Judo Club) & Katsuo Leung (Hiro's Judo Club)
2019 Winners – Eveyln Beaton (Lethbridge Judo Club) & Andrew Micu (Hiro's Judo Club)
2020 Winners – Brynn Iwaasa (Lethbridge Judo Cluc) & Albert Bixi (Hiro's Judo Club) & DJ Roberts (Airdrie Judo Club)
The Florence Senda Lifetime Service Award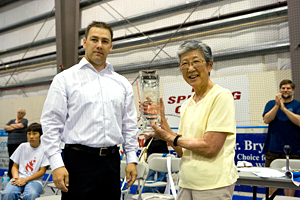 The purpose of The Florence Senda Lifetime Service Award is to recognize an individual in Alberta who has, through his/her commitment and long term dedication to Judo Alberta or a member club. This individual has dedicated themselves to the betterment of Judo in Alberta and to volunteer services province wide.
The general criteria for an individual who is nominated for this award must meet the following criteria:
Have demonstrated leadership that contributed to the enhancement of judo in Alberta
Have a consistent and continuous record of volunteer service to Judo Alberta or a member club for a minimum of 15 years
Have a history of past and current community volunteerism.
Mrs. Florence Senda has been a volunteer to the sport of Judo since 1963. Mrs. Senda raised awareness of Judo , especially in the Lethbridge community. Mrs. Senda's volunteer commitments to Judo are numerous: She was an athlete, mentor, coach, cook, chaperone, drawmaster, scorekeeper, referee, wife and parent. In the Lethbridge community, Mrs. Senda has opened her home to foreign students, volunteered for her church, soup kitchens, Harbour House, Heart & Stroke Foundation, Japanese Garden Society, Bonsai Society, Kiwanis Music Festival, Chinook Health Region Authority and the Canadian Red Cross to name a few.
On behalf of Judo Alberta, I would like to thank Mrs. Senda for her years of tireless effort helping individuals and improving the sport of Judo in Alberta and Canada.
Paul Hachey
President
Judo Alberta
Complete information on this award can be found here.
Paul Knoll Lifetime Membership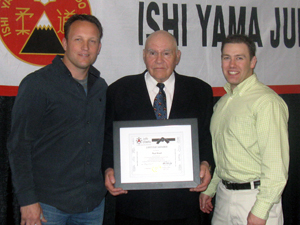 Sensei Paul Knoll was born on March 5, 1936 in Toronto, Ontario. As a young man, Paul traveled the world in the merchant navy, and worked various jobs including truck driver, heavy equipment operator, millwright and stationary engineer. In time, Sensei Knoll returned to school and became a design draftsperson for the City of Toronto Transit Commission.
Sensei Knoll was a late bloomer in judo. He started judo when he was around 24 years old under Sensei Eiki Kawano.
Sensei Knoll was awarded his black belt in 1974, but even as a yellow belt, he was involved in assisting his Sensei teach judo.
Sensei Knoll and his family (two daughters and one son) left Toronto in 1975 and moved to Calgary to pursue a career as a pipe designer. Unfortunately, the only judo club in Calgary did not teach females at the time, so Sensei Knoll decided to start his own judo club in order to allow his daughters to continue with their judo lessons. The Ishi Yama Judo Club started at the YMCA with the help of Frank Wilson. After moving several times, the club is now located at Acadia Recreation Complex where we are today.
In the club's infancy, Sensei Knoll had a clear vision for the Ishi Yama Judo Club and helped develop the following mission statement:
"To teach judo utilizing the principles of Professor Jigoro Kano to young and old alike.
To help aspiring athletes reach an Olympic or world class level of proficiency."
With Sensei Knoll's dedication, inspiration and the help of many people including Sensei Jess Arai, two of his students have achieved Olympic and world class level in judo (Keith and Colin Morgan). Sensei Knoll helped many of his students reach various levels and black belt grades. He is proud of all of his students.
In his judo career, Sensei Knoll organized, refereed, and fought in many tournaments. He competed until well into his 50's. Some of his judo achievements include:
5th Degree Black Belt – Kodokan
IJF "C" Referee (1993)
Level 3 Certified Coach (1998)
Today, Sensei Knoll and his wife Michelle live in Calgary with their two dogs. He retired from teaching judo in 2005.
Sensei Knoll is a busy man. He is enjoying his retirement with his 8 grandchildren, and is still very active in the Judo community.
On a personal note, I would like to thank Sensei Knoll for all he has done for me during my fighting career. While living and training in Edmonton, Sensei Knoll graciously took me to many international events across North America. I will never forget my experiences in Phoenix, San Jose, San Diego, and Hawaii to name a few. Thank you.
Congratulations Sensei Paul Knoll on receiving your Life Time Membership to Judo Alberta.
Paul Hachey
President
Judo Alberta
2020 Annual Awards