JudoAlberta.com is proud to feature a number of biographies of past and present members.
Collette Iwaasa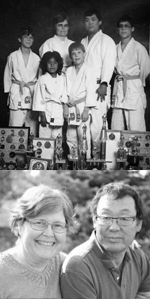 Collette Van Orman was born on April 1, 1950 in Taber, Alberta. She was the middle child of nine, and spent her childhood on a Farm 10 miles north east of Taber. In 1961 her family moved to Calgary and then in 1964 they moved to Lethbridge. Throughout her adolescence one of Collette's favorite places was the library.
After High School Collette went to Nursing School at the Foothills Hospital and in October 1970 she met Glenn Iwaasa at a Halloween Party in Lethbridge. She graduated from Nursing School in August 1971, and started working at the Lethbridge Municipal Hospital that September. Collette and Glenn were engaged in October and they moved to Calgary where she worked at the Foothills Hospital. Collette married Glenn on January 8, 1972.
Collette raised 4 children, 3 boys and 1 girl. Mark Toru Iwaasa, Steven Kojiro Iwaasa, Kevin Seiko Iwaasa and Wendy Celine Iwaasa. Collette was also raising Talani at the time of her passing.
Collette became involved in Judo in January 1979 starting at the U of L at the age of 28. She assisted Glenn with re-starting the Raymond Judo Club in 1985, 42 years after Yoshio Katsuta opened the first Judo dojo in Alberta in 1943. After many years of dedicated work and service, she was awarded Volunteer of the Year by Judo Alberta in 2008, which was an accomplishment she was very proud of. She received her black belt in Judo on February 3, 2012 during the Raymond Judo Clubs annual parent night.
In September of 2008 she was diagnosed with cancer in September of 2008 and continued to live her life with a positive and optimistic attitude. She passed away with Kevin, Wendy and close friends at her bedside on March 6, 2012.
Wally Litousky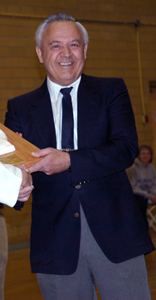 Former Judo Alberta athlete and long time judo coach and referee Wally Litousky has been nominated by Judo Alberta for the prestigious City of Edmonton Salute to Excellence Award in the category of Sport Builder.
Litousky, who celebrates 56 years of volunteer service to Judo Alberta this year, was recognized at the Provincial Championships in 2003 by the Association for his contribution to Judo as a referee and all those he has coached and mentored during his first half decade in sport. Litousky was also awarded a Life Membership from Judo Alberta at that time. Six years later, Litousky's name still brings unanimous votes from across the province.
"He's just the nicest guy", said Dr. Yoshio Senda, CMA, who had known Litousky for the better part of the 56 years. "He was always someone you could count on to be at every tournament to referee", Senda added.
"As far as I can recall, Wally consistently attended most, if not all, tournaments in Alberta since retiring from the military in 1980", said Guy Sunada, Judo Canada Referee Chair. "That's why, I'm guessing that he probably holds the Alberta record for having attended more Alberta tournaments (as a referee) since Dr. Senda's retirement from refereeing" Sunada added.
Currently a 3rd degree black belt, Litousky was first introduced to Judo at the age of 15 while living in the farming community of Moose Jaw, Saskatchewan where he practiced at the local high school. In 1955 at age 17 he joined the Royal Canadian Air Force. After boot camp and trade school he was sent to RCAF Base McDonald Manitoba where he and friend Kenny Greer started a judo club, learning most of his technique from a Kodokan book. This club later expanded and moved to Portage La Prairie, Manitoba. In 1958 Litousky was posted to Germany and trained at the 4 Wing Baden-Baden judo club. In 1960 Judo Ontario's Masao Takahashi was transferred to Baden-Baden base and between the two judo fanatics, the sport spread like wild fire. With Takahashi, Litousky visited many European judo clubs. In 1962 he was transferred back to RCAF Station Cold Lake where as a green belt he opened another club. Again, after only three months, he was re-deployed to Germany where he was stationed until 1968. During this stint in Germany he was promoted to Shodan. In between Judo and his career as a weapons technician, he also found time to marry his sweetheart Liz, whom he met in Canada but didn't hook up with until 1964 in Germany.
Upon his return to Edmonton he ran the CFB Edmonton which, under his management, measured the highest base membership ever. The years of 1968 & 1969 were great years for Litousky as he won the provincial championships and fought at Nationals in Lethbridge.
In '71 the Litousky's returned to Germany for four years where Wally took charge of the Armed Forces Europe Judo Association. Upon his return to Cold Lake he started yet another judo club on the base which he ran until his military retirement in 1980. Guy Sunada says that he and Greg Senda were on the Canadian Judo team that traveled to Germany in 1972 for a goodwill tour just prior to the Munich Olympics. "The Team flew into Canadian Forces Base Lahr…we were just a couple of young guys from back home in Alberta and Wally did his best to make us feel at home. He and his wife looked out for us and showed us around that part of Germany," Sunada added.
In 1973, Dr. Yosh Senda was traveling with the Canadian contingent to the World Judo Championships in Switzerland. "We invited Wally to come along…to be part of the Canadian group," Senda said.
After suffering a serious work related back injury, Litousky retired from competitive judo in 1976. The injury, although debilitating, did not extinguish his passion for the sport as he continued to volunteer countless hours to coaching and refereeing.
Following his retirement and a move from Cold Lake to Edmonton, Litousky hooked up with brown belt Yvonne Bedard whose keen interest to start a club pulled him back into the fold. The popular CFB Edmonton club opened in the fall of 1980 with membership of civilians and military alike exceeding 80 in some years. Litousky sponsored the club until 1983 when Bedard met an untimely passing from cancer. Following Bedard's death, Litousky renamed the club North Edmonton Judo and became the club Sensei. Under his direction, the club achieved great success sending many athletes to national level events.
EYJS co founder Gil Hachey fondly recalls traveling around the province with Litousky to sport outreach clinics. "We would go to the outlying clubs in Grande Prairie, Cold Lake…sometimes towns requested us and we would just go", Hachey said, of teaching the sport to members and non members alike.
"Wally used to hold the biggest tournament out of the Greisbach facility", Hachey said, adding that over 350 athletes from northern Alberta would gather to compete in the annual event. And when the North Edmonton Judo Club closed in 2005 for redevelopment of the Greisbach property, Litousky quietly sold his equipment and joined the St. Alberta Judo Club who welcomed him with open arms.
Litousky's passion for judo, in addition to his jovial and giving nature, has certainly
supported the growth of the sport in Edmonton.
"Wally has helped to develop the sport of Judo in Edmonton and has demonstrated his
desire to build a strong community through many initiatives over his extensive Judo
Career," Edmonton Yudanshakai President Keith McKee says.
Still operating today, the organization trains volunteers to handle tournament duties
such as time keeping, draw keeping and other tasks required to run tournaments. EYJS
is currently comprised of eight judo clubs in the communities of Edmonton, Drayton
Valley, Ft. Saskatchewan, Spruce Grove, EYJS runs an annual international judo
tournament every March on the Ice Palace at West Edmonton Mall.
Until recently, despite continuing health problems, Litousky, had been a constant figure
at the St. Albert Judo Club and would volunteer at various tournaments to referee.
In 2008, despite his physical limitations, he refereed at the 2008 Alberta Winter Games
in Leduc. Now, at age 70, and only after being ordered by a specialist, Litousky has
had to cut back on his involvement with Judo due to debilitating health problems. A
keen biographer, Litousky keeps busy on the computer archiving his military records
and keeping in close contact by email with judo friends in Alberta and across Canada.
He and his wife Liz live in north Edmonton.
Gradings
White Belt ~ Rokkyu January 16, 1961
Yellow Belt ~ Gokyu March 30, 1961
Orange Belt ~ Yonkyu June 22, 1961
Green Belt ~ Sankyu April 14, 1962
Blue Belt ~ Nikyu October 13, 1962
Brown Belt ~ Ikkyu April 7, 1963
Black Belt 1 Dan (Shodan) February 28, 1964
Black Belt 2 Dan (Nidan) January 17, 1981
Black Belt 3 Dan (Sandan) December 8, 1996
Clinics Attended
High Level Kata Clinic February 21, 1987
Goshin Jitsu February 21, 1987
Sport Med Clinic December 18, 1987
Sport Injury Clinic March 18, 1989
CPR Clinic October 29, 1989
Referee Clinic (Int.) November 11, 1989
Referee Clinic (Int.) January 11, 1999
Referee Clinic (Adv.) May 5, 2000
Referee Clinic (Adv.) April 08, 2006
Referee Clinic (Adv.) March 16, 2007
Referee Gradings
Provincial C May 15, 1982
Provincial B March 9, 1985
Provincial A November 22, 1987
National C October 21, 1989
National B October 26, 1991
Coaching Certification
NCCP Level 1 Technical June 1983
NCCP Level 1 Practical June 1983
NCCP Level 1 Theory January 1997
NCCP Level 1 Certified April 1997
Yoshio (John) Katsuta

Highlights
Founded Alberta's first judo club in Raymond in 1943.
First President of the Alberta Black Belt Association founded in 1952.
Inspirational in establishing the annual Katsuta Cup Tournament that is attended by over 300 competitors from Alberta and the United States.
Elected Life member of Judo Canada in 1983.
Awarded the Commemorative Medal for the 125th Anniversary of the Confederation of Canada in 1992.
Awarded 6th degree black belt from Judo Canada in 1994.
Background
Yoshio Katsuta was born March 15, 1904 in Okayama, Japan.
By age 15 he was involved in Judo and trained in Okayama as well as in Tokyo at the Kodokan (largest judo school in Japan) and by age 18 earned a black belt.
He began instructing and also studied chiropractic because he believed a good instructor must have knowledge of chiropractic techniques to help injured athletes.
In 1934, Mr. Katsuta, then a 4th degree black belt, moved to Vancouver, British Columbia, Canada and then in 1942 was re-located to Raymond where he founded Alberta's first judo club in 1943. The Raymond Judo Club, home to around 60 young, mostly Japanese Canadians, originated at the local Buddhist church.
Mr. Katsuta traveled far and wide in the Province giving Judo demonstrations and encouraging the opening of clubs in many cities and towns.
Many of his students, including Yoshio Senda (now 9th degree black belt), Guy Sunada (now International A referee) and Glen Iwaasa (now Raymond Club instructor) continue to promote the sport today.
Mr. Katsuta passed away on December 20, 1997 at the age of 93 years.
Accomplishments
Mr. Katsuta served as the first President of Judo Alberta upon its formation in 1952.
He received the Centennial Medal in 1967.
In 1987 he was awarded the prestigious Hokkaido Cup from the Governor of Japan.
Judo Canada honored him in 1983 with a lifetime membership in recognition of his long and distinguished service to the sport. In 1985 Katsuta was named honorary chairman of the Canadian Senior Judo Tournament.
In 1987 he was inducted into the Raymond Sports Hall of Fame.
In 1996 Judo Canada honoured him with an induction into the Judo Canada Hall of Fame.
He achieved the Judo grade of 6th degree black belt in 1994.
In 2005 Mr Katsuta received the Alberta Centennial Salute to Sport and Recreation Award, in recognition of his outstanding contributions.
Philosophy
Mr. Katsuta's main goal in teaching judo was to help develop the mind and body so that the individual would evolve into a good human being who would contribute to family and society.
Like the precepts taught by his teachers, he wanted to maintain the essence of judo which goes beyond self defence, technical skills and sports and rather integrates the mind, spirit and body so that the person would develop as a unified being. It is about self-mastery – a way of being – that would be reflected in all aspects of one's thoughts and behaviour in daily life. He believed that by following the path of judo for a long time, many elements in one's personality become refined as inner clarity, alignment and harmony are achieved. "One becomes aware experientially rather than intellectually". That feeling of direct knowingness that cannot be put in words. The focus is on conquering the "foes" within rather than external opponents.
Ron Senda

Highlights
Currently 6th Degree Black Belt
Started judo at about the age of 8 with the Lethbridge Judo Club and has practiced Judo ever since (almost 50 years).
Competition was his primary focus until he went away from Lethbridge to attend university for graduate school. From that time forward Ron has spent most of his attention on teaching.
After moving to Edmonton in 1971 he joined the University of Alberta Judo Club and became the sensei in 1974 and has remained the sensei of the U of A Judo Club ever since. During that time, students come through and start their own clubs, or sensei's would drop by for the opportunity to practice with other black belts and higher ranked people.
President of Judo Alberta from 1981-1987. During this time the annual budget was raised from about $30,000 per annum to nearly $200,000. The membership was raised from a few hundred to nearly 1,800 players. The efforts of the Judo Alberta Executive also saw clubs started in all of the Sport Alberta zones. The example that was set by how Judo Alberta was organized and managed was held up by Sport Alberta whenever they wanted to encourage other sports to change how they operated.
Member of the Judo Alberta Grading Board since the mid 1970's. During that time Ron has represented Judo Alberta at Judo Canada Grading meetings. He was part of the small core of people who was asked to help rewrite the Judo Canada Black Belt Grading Syllabus.
'Regional' referee ranking, which is the third highest international level. Ron has refereed at National Championships for many years.
Ron's greatest personal achievement is having his students become sensei's, coaches, referees, and organizers (Judo Alberta Executive members) of Judo. The contribution that they make to the sport gives him pride as he watches the sport grow and prosper through their efforts.
Yosh Senda
Personal Background
Born February 14, 1922 in Mission City, British Columbia
Wife – Florence, Daughter – Mae and Dawna, Son – Ronald and Greg
Personal Achievements in Judo
1930 – Started judo at 8 years of age in Mission City
1939 – Received shodan (1st degree)
1939 – Asst Instructor to Eichi Hashizume in Mission City in Mission City until 1941
1943 – Asst Instructor to Yoshio Katsuta at 1st judo club in Alberta (Raymond)
1946 – Received nidan (2nd degree)
1952 – Started judo club at YMCA in Lethbridge
1957 – Member of Canadian Judo Team at AAU championships in Chicago, USA
1959 – Received sandan (3rd degree)
1958-59 – Secretary for Alberta Kodokan Black Belt Association
1959-77 – President of Judo Alberta
1963 – Received yondan (4th degree)
1965 – Received godan (5th degree)
1967 – Begain instructing judo for University of Lethbridge Physical Education
1970 – Received rokkudan (6th degree)
1980 – Received shichidan (7th degree)
1993 – Received hachidan (8th degree)
2007 – Received kudan (9th degree)
April 2008 – Recipient of Order of Canada
Administration (JUDO CANADA):
Vice President – multiple years
First Vice President – 6 years
Registrar General – 14 years
Referee Committee – mulitple years
National Grading Board member – multiple years
Hall of Fame member – Builder
Judo Canada Life Member
Administration (JUDO ALBERTA):
ALBERTA:
Coaching judo in Alberta since 1943
Head instructor and coach of Lethbridge Judo Club since 1952
Head instructor and coach of U fo L Judo Club since 1967
Provincial coach for 9 years
1975 – Hokkaido, Japan
1980 – Nagoya, Japan
1982 – World University Championship – Jyvaskyla, Finland (Canadian University Team coach)
1984 – Nagoya, Japan (University of Lethbridge team coach)
1987 – Nagoya, Japan
1989 – Osaka, Japan – Lethbridge Judo Club high school exchange
International
Judo Canada Team Manager
1975 – Pan American Games – Mexico
1976 – Olympic Games, Montreal
Judo Canada Team Coach
1978 – Appointed Judo Canada national coach (for 10 years)
1979 – Hungarian Cup, Pecs, Hungary
1979 – World Championship, Paris, France (assistant)
1979 – Pan American Games, Puerto Rico
1979 – Canada Cup, Quebec City
1980 – Canadian Olympic coach – Moscow (Canada boycotted)
1980 – U.S. Open, San Jose
1981 – Pacific Rim Championship, Nagoya, Japan
1981 – World Championship, Maastricht, Holland
1982 – U.S. Open, Colorado Springs
1982 – Kano Cup, Tokyo, Japan
1983 – All Japan International University Championship, Tokyo (Shoriki Cup)
1983 – Tsbilisi, USSR Judo Championsip
1983 – Pre-Pan American Training Camp – Lethbridge
1983 – Pan American Games, Caracas, Venezuela
1983 – Fukuoka, Japan
1984 – German Open, Cologne, Germany
1984 – One month training in Japan
1984 – Olympic co-coach, Los Angeles
1984 – U.S.Open – Colorado Springs
1988 – Personal coach to Joe Meli – Olympics – Seoul, Korea
1990 – Shoriki Cup, Tokyo, Japan
Awards
1965 – Southern Alberta Kinsmen's "Sportsman of the Year"
1967 – Government of Canada, Centennial Medal Award
1971 – Inducted in Alberta Amateur Sports Hall of Fame
1974 – Government of Alberta Sports Achievement Award
1977 – Elected to Canadian Amateur Athlete Hall of Fame
1977 – Recipient of Queen Elizabeth Silver Medal
1978 – Lethbridge Jaycees "Citizen of the Year" award
1983 – Recipeint of Hokkaido Cup, donated by Governor of Hokkaido
1985 – Inducted into Lethbridge Sports Hall of Fame
1988 – Alberta Coaching recognition award
1989 – "Honorary Doctor of Law" degree from University of Lethbridge
1989 – Government of Alberta "Coach of the Year"
1991 – "The Order of the Sacred Treasures, Gold and Silver Rays" conferred by His Majesty, the Emperor of Japan
1992 – Government of Canada, "125 year Anniversary of Confederation fo Canada" commemorative medal
1995 – AGT Community Champion of Sports Award at Canada Games March of Champions
1995 – Nominated "3M Coaching Award of Canada
1995 – Inducted into Raymond Sports Hall of Fame
1996 – Inducted into Judo Canada Sports Hall of Fame
2002 – Inducted into University of Lethbridge Sports Hall fo Fame
2002 – Celebrated 50 year anniversary, Lethbridge Judo Club
2002 – Recipient of Hokkaido Cup, donated by Governor of Hokkaido
2002 – Queen Elizabeth Golden Jubilee Medal
2003 – Government of Alberta "Outstanding Sports Volunteer"
2008 – Recipient of Order of Canada
Harry Tanigami

Highlights
Born January 6, 1919 in Steveston, BC
1920: Moved to Kagoshima, Japan
1932: At 13 years old, a young Harry returned to Steveston, BC and began to study Judo under Sensei Sasaki
1942: Moved from Steveston, BC to Turin, AB
1948: Moved and purchased a cafe in Rosemary, AB
1958: Founded the E.I.D. Judo Club (Rosemary), with the Dojo in the Rosemary Buddhist Church
1959: The E.I.D. Judo Club is 50 Members strong
1968: The E.I.D. Judo Club (Ranier) – (Sponsor) is formed under Sensei Yosh Fujimoto
1974: The E.I.D. Judo Club (Brooks) – (Sponsor) is formed under Sensei Gary Tanigami
1978: Mr. Tanigami was named the Head Official at the Arctic Winter Games (Hay Lake)
1982: Mr. Tanigami was the Coach of Team Alberta at the Hokkaido Cup
1984: Mr. Tanigami was the recipient of the Hokkaido Cup Award; Presented by the Governor of Hakkaido
1990: Mr. Tanigami received 6th Dan
1992: On April 30, the E.I.D. Judo Clubs were officially closed
Mr. Tanigami is also certified as a National Level Referee, was on the Alberta Grading Committee since its inception, and also served as the Chairman for many years.